Mushrooms can be used in all seasons, without exception, as they can be used to make delicious starters, soups, main courses or side dishes at any time of the year. But in autumn, you can add a seasonal twist to your mushroom recipes and make delicious pumpkin and mushroom dishes.
Pumpkins are a real autumn delicacy, both aesthetically and in taste. They can be made into soups, main courses and desserts with a variety of spices, and pumpkin puree coffee – the well-known pumpkin spice latte – is a popular seasonal drink in almost every coffee shop.
In this article, we've brought you three recipes that showcase the excellent combination of two of our favourite foods, mushrooms and pumpkins.
1. Pumpkin cream soup with mushrooms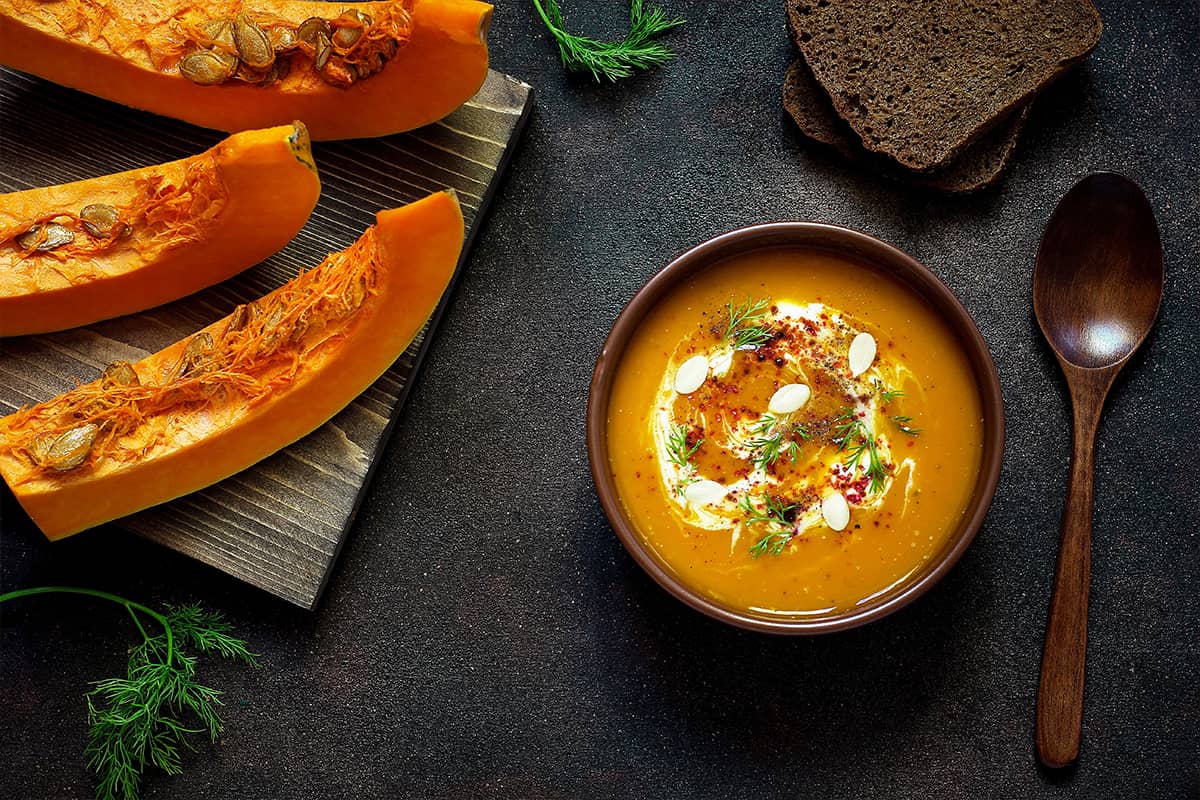 Ingredients
1 kg squash
4 cloves of garlic
125 g butter
1 teaspoon of rosemary
60 g sour cream
300 ml water
250 g champignon mushrooms
salt, pepper to taste
Instructions
Clean the squash, scoop out the seeds and dice it. Melt half of the butter, mix the squash with the rosemary, salt, pepper, minced garlic and melted butter in a baking pan and bake in a preheated oven at 200°C for 1 hour until tender.
Clean and slice the mushrooms.
Melt the other half of the butter in a pan and fry the mushroom slices.
When the squash is done, remove from the oven, transfer to a tall dish, add the sour cream and water and puree with a vertical blender. Serve sprinkled with the fried mushrooms.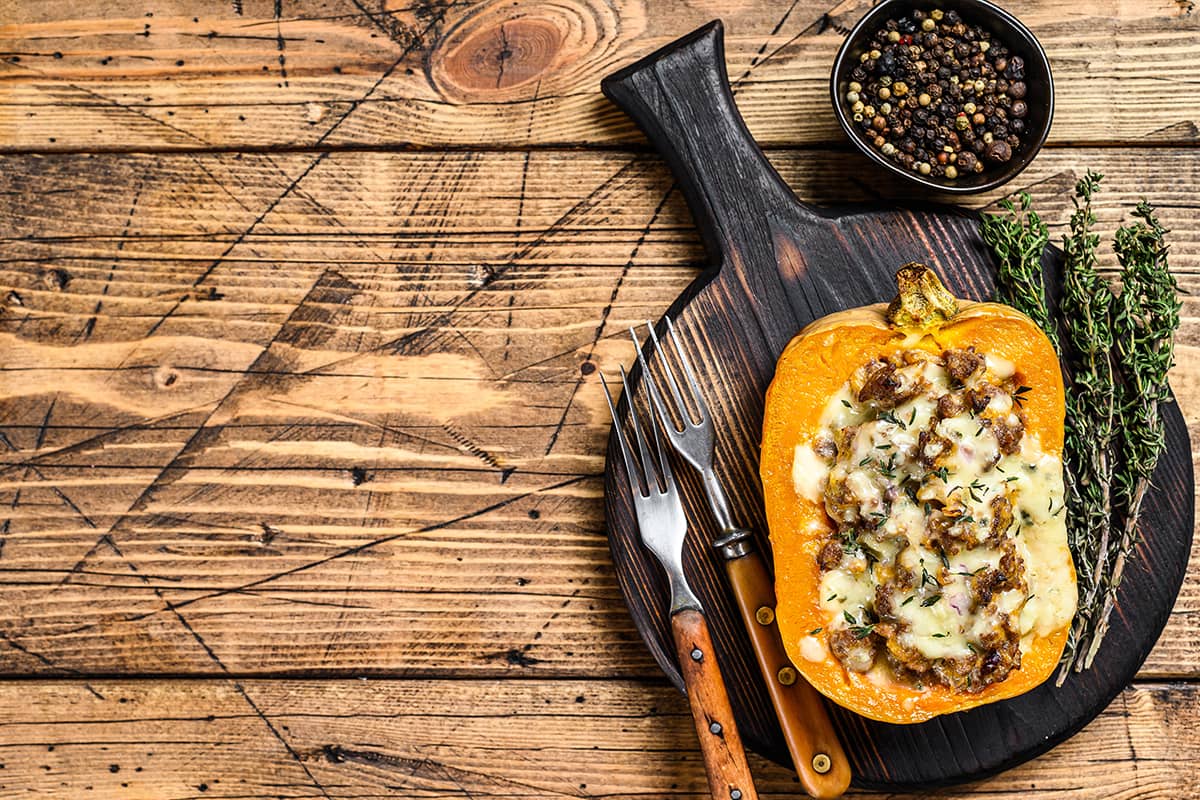 Ingredients
1,5 kg squash, cut in half lengthwise, without seeds
50 g champignon mushrooms, sliced
1 onion, chopped
2 cloves of garlic, minced
5 sundried tomatoes, chopped
100 g couscous
2 branches of rosemary chopped
1/4 teaspoon chilli powder
1/4 teaspoon ground coriander seeds
1/2 handful chopped walnuts
olive oil
salt, pepper
Instructions
Preheat the oven to 200°C.
Use a spoon to scoop out some of the elongated part of the squash to stuff it evenly, then chop the scooped-out part.
In a pan, fry the onion and garlic in 2 tbsp of heated olive oil, then add the coriander, chilli, rosemary, chopped squash and sundried tomatoes and let simmer together for 5 minutes to soften.
Add the mushrooms and 200 ml water, simmer for another 2 minutes and season with salt and pepper to taste.
Add the couscous and walnuts, mix together and stuff the mixture into the two halves of the squash, then squeeze them together.
Brush the outer part of the squash with olive oil, wrap in aluminium foil and bake in a preheated oven in a baking tray for about 1,5-2 hours until the squash is tender.
3. Risotto with mushrooms and squash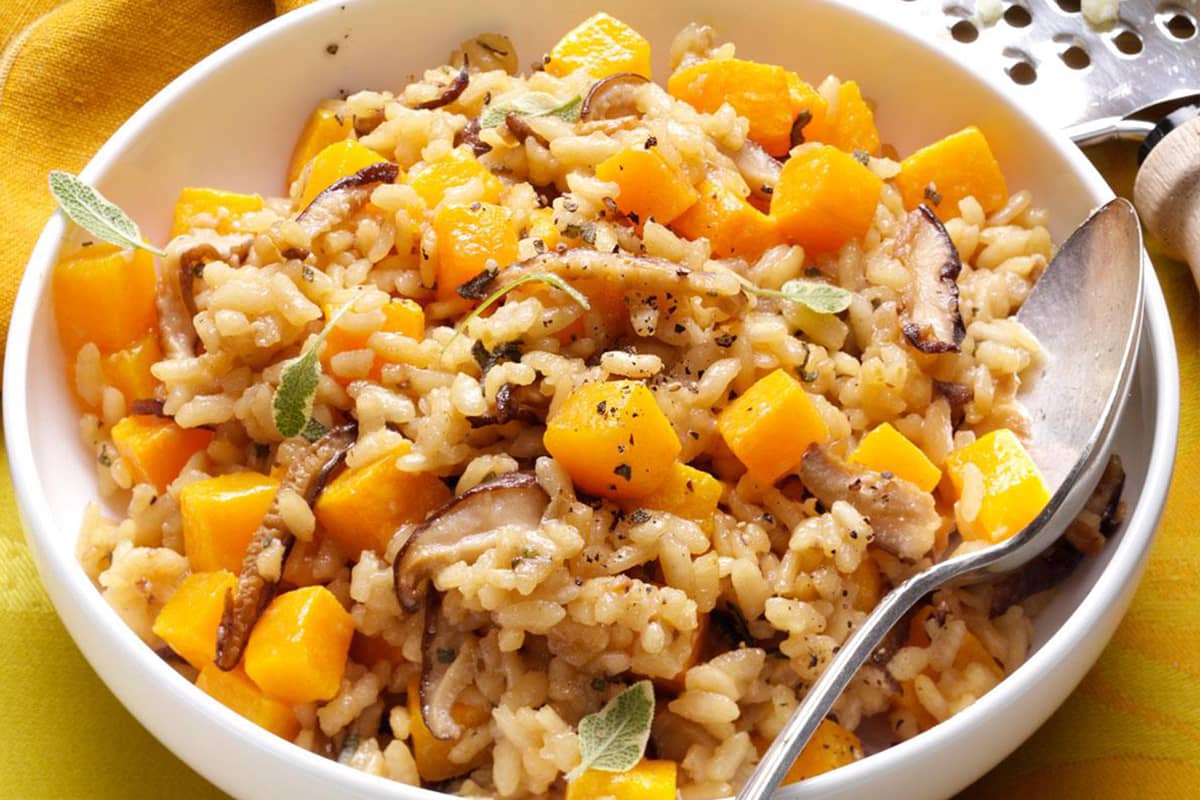 Ingredients
250 g squash
200 g risotto rice
150 g champignon mushrooms
900 ml broth
80 g parmesan
50 g butter
150 ml dry white wine
1 onion
2 branches of rosemary
2 cloves of garlic
salt
pepper
Instructions
Wash and drain the rice thoroughly.
Clean and slice the mushrooms and the squash.
Chop the onion and sweat it in a little oil, add the minced garlic and when it starts to colour, add the mushrooms and squash.
Stir fry for a minute or two, add the rice and fry for a minute, then add 100 ml of broth.
Season with salt and pepper, and when it has absorbed the liquid, add the rest of the broth.
Add the wine only towards the end.
It is ready when the rice is still a little firm in the middle and the risotto is not dry.
Stir in the butter to make it creamier and serve with grated parmesan and rosemary.