There are numerous ways to prepare mushrooms because they are an incredibly versatile food that gives an exceptional savour to our favorite meals. You can steam, cook or fry mushrooms, but they are great for cream soups, meatless courses and healthy snacks, too.
Mushrooms can be prepared deliciously on the grill, as well. All you have to do is pay attention to a few minor details while preparing in order for them to keep their savour and be everyone's favourite at the table.
We have gathered a few tips for grilling mushrooms so you can make the most of this superfood:
Prepping the mushrooms
Before starting to grill, prepping the mushrooms appropriately is of key importance, as it can influence the entire outcome of our meal. There is no need to wash mushrooms, it is enough to clean them with a brush in order to remove any dirt from the surface. However, if you don't have time to brush them one by one, you can rinse them with water just before cooking.
If you want to use only the mushroom caps, you can remove the stems entirely, otherwise it is enough to only cut some of the dry ends of the stems off. Then we can prep them for grilling according to their size.
Cooking method according to size
Depending on the type of mushrooms we are grilling, we have to choose the right method. The size of the mushrooms is the most important in this step. Boglar Champ offers white and brown champignon mushrooms, pleurotus mushrooms, as well as mushroom mixes, so your grill will be full of and taste. Large mushrooms can easily be grilled whole, medium mushrooms can be put on skewers, either whole or sliced, while small mushrooms are best grilled in grilling baskets or tinfoil, in order to keep them from falling in the fire between the grids.
How to season mushrooms for grilling?
Seasoning mushrooms can be done in many ways. You can marinate mushrooms up to one day in advance, but it may also be enough to just baste or sprinkle them while on the grill. The taste of mushrooms intensifies as the water in them evaporates while cooking. Having a large water content, mushrooms can lose up to 50% of their size during preparation.  This is good to take into consideration when deciding how to grill them, in order to avoid the unpleasantness of mushrooms falling into the fire through the grids.
When grilling marinated mushrooms, it is recommended to baste or spray them on the grill, too, in order to keep them from drying out. To keep them moist, it is best to use an oil-based sauce.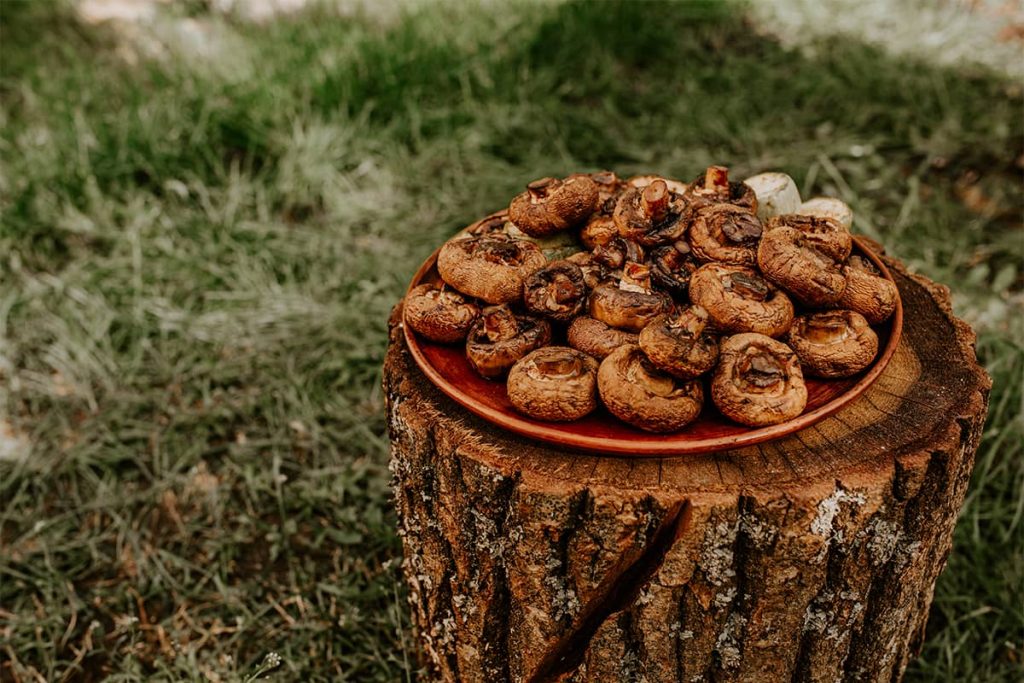 How long to grill mushrooms?
The time needed to prepare mushrooms on the grill depends on their size, as well as on the method we have chosen. Previously marinated mushrooms will be ready in about 10-15 minutes, while mushrooms seasoned and packed in tinfoil will need as much as 20-25 minutes on the grill.
If you are in the mood for grilling, you better heat your grill, because we also have a recipe for you: our recommendation is delicious grilled champignons with French seasoning.
Recipe: Provence style grilled champignons
Ingredients:
16 medium champignons
2 cloves of garlic
6 tablespoons of oil
fresh rosemary
1 teaspoon chopped thyme
5 sage leaves, chopped
1 bay leaf, ground
Instructions:
Clean the mushrooms and remove the stems. Dry the caps with a paper towel.
Mix the oil with the minced garlic and the herbs.
Generously coat the mushrooms on the inside and outside with the spiced oil. Put the mushrooms on the heated grill with their caps facing upwards and grill on both sides for approximately 2-3 minutes. When ready, serve with a side dish of choice.
If you don't have a grill yet, check our Facebook page and enter the contest for a chance to win a PRINCESIZE PRO KAMADO GRILL!