In the past, there were many misconceptions and superstitions about what pregnant women can or cannot eat and there still are. However, the basic rule is to eat whatever suits you, and whatever your general health allows you to, this means: mushrooms too!
Nevertheless, during pregnancy, it is recommended that we are more cautious regarding consumption of foods, to better control the intake of nutrients, protein, antioxidants, vitamins, folic acid, and so on. In this context, the consumption of cultivated mushrooms is especially recommended. Wild mushrooms are another matter; there is always the risk of mistaking good to poisonous ones.
According to nutritionists, the nutritious intake of an expectant mother during the first six months of pregnancy should be about 2,000-2,500 calories per day, so it should contain with 150 calories more than usual meals.
Although it is a misconception that you have to eat instead of two during pregnancy, but the nutrient requirement of the body increases.
In the last trimester of pregnancy, this value rises to 300 calories. Nevertheless, it is important not to cover this extra need of calories with fats and sweets, but with superfoods that provide your body with the most important nutrients, vitamins and minerals. It is also not recommended that you take supplements instead of superfoods; but it is better to consume a healthy diet.
One of those superfoods are mushrooms.

During pregnancy, our body's need for protein and carbohydrates also increases. During these months, also an additional intake of protein is required, that is approximately 10 g/day, which can go to 70-90 grams per day, depending on each individual's energy needs. During this period, the ever-growing uterus and the fetus inside it, exert pressure on the colon, which can lead to constipation: this can be prevented by eating foods that contain an adequate amount of dietary fiber, such as fruits, vegetables and mushrooms.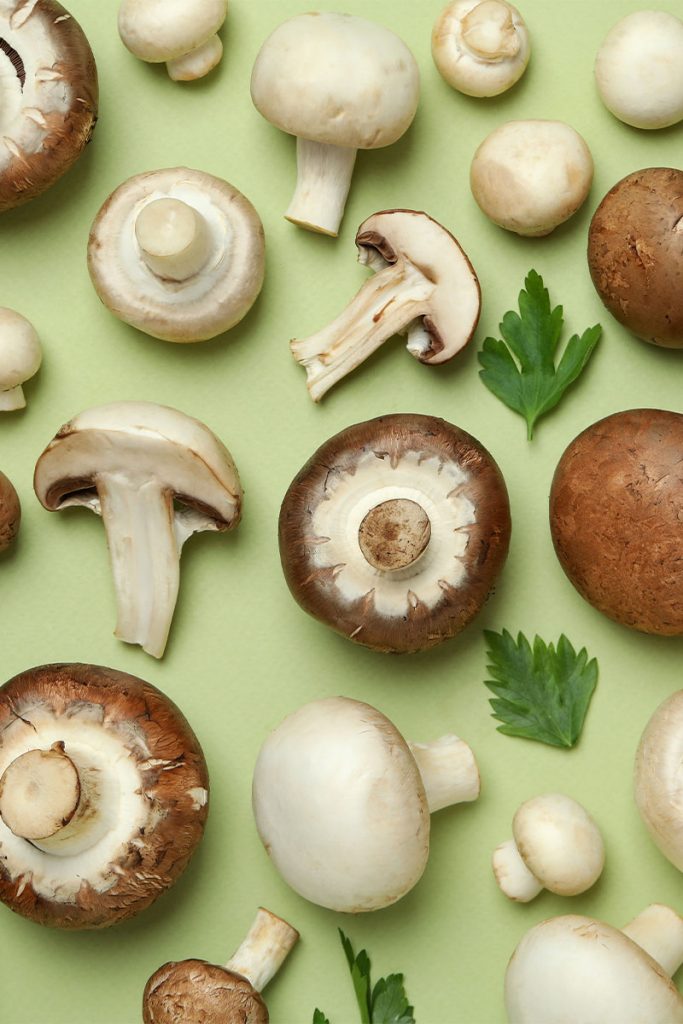 Because mushrooms contain fiber, they help treat indigestion and constipation, which are common during pregnancy. They also contain antioxidants (such as selenium) that strengthen the immune system.
During pregnancy, the body's need for vitamins and minerals also increases significantly. For example, we need 30% more vitamin B1, 25% more vitamin B2, 25% more vitamin B6, 30% more vitamin B12 and 70-100% more vitamin D when expecting a baby. We also need 20-50% more calcium, 20-50% phosphorus, 50% magnesium, 100% iron, 30% copper and 25% more iodine to meet our needs.
Adequate vitamin and mineral intake during pregnancy is crucial not only for the health of the mother, but also for the health of the baby. Calcium is necessary for the development of the baby's bones and future teeth; magnesium is necessary for the development of the nervous cells and can help prevent miscarriage or premature birth. Fortunately, mushrooms can cover also these needs. They contain a lot of vitamins, nutrients, proteins and carbohydrates, which is why they are excellent food for both the mother and the growing baby.
Mushrooms are also a natural source of B vitamins: but they also contain thiamin (B1), riboflavin (B2), niacin (B3) and pantothenic acid (B5). Thiamin and niacin promote the development of the baby's brain, relieve fatigue of pregnant woman and increase their energy. Riboflavin helps maintain healthy skin, improves vision, and develops strong bones, muscles, and nerves.
Vitamin D, which is also found in mushrooms, helps the absorption of calcium and, at the same time, contributes to the development of bones and teeth of the fetus. The lack of vitamin D by pregnant women can cause fatigue, back pain, bone weakness and depression.
Mushroom protein is necessary for the overall development of the baby, as it contributes to the growth of the muscle mass. They are also an excellent source of iron, which helps the production of hemoglobin and red blood cells in both the mother's and the fetus' body. Antioxidants found in mushrooms strengthen the immune system and that guards pregnant women from catching diseases easily during pregnancy. Mushrooms also contain zinc, potassium and selenium, which favor the growth and development of the baby.
Shortly, if you are pregnant, it is recommended that you eat loads of mushrooms, but at the same time, you should pay attention to the following:
eat only cultivated mushrooms that are fresh and come from safe sources;
always wash your mushrooms before use;
do not eat raw mushrooms during pregnancy.